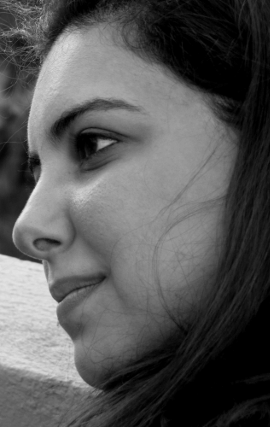 Erato A. Kremmyda is a New York City based composer, and sometimes music director, arranger, orchestrator, music supervisor and sound designer.
Born and raised in Athens, Greece, she works across genres and countries and most frequently collaborates on projects for the stage or the screen.
A Jonathan Larson Award winner with collaborator Maggie-Kate Coleman, a Fulbright fellow and an Anna Sosenko Trust Grant recipient, she is a graduate of Tisch School of the Arts (Master of Fine Arts), Steinhardt NYU (Master of Music), Athens University and Athens Conservatoire.
Click here to say hello.
Winter 2018:
"Marie In Tomorrowland" (conceived and created in collaboration with Maggie-Kate Coleman and Sam Pinkleton) at the American Music Theater Project at Northwestern University
Vinegar Tom by Caryl Churchill at the University of Alabama, directed by Annie Levy: music direction/music supervision/mentorship
Workshop/Seminar on Collaboration and Musical Theater Workshop: "How to create your own work", University of Alabama, with Maggie Kate Coleman
Fall 2018:
Music Advisor/Music Director/Mentor for the Advanced Directors' Lab at the O'Neill Theater Institute
Julius Caesar at St.Bernard's School, directed by Bradford Cover: original music and sound design
Summer 2017:
"Io" by Laura Tesman at the Philippi International Festival (Greece): original music, sound design, Greek translation/adaptation
NYMF "Women of Note" concert at the Peter Jay Sharp Theater: Presenting "The Ballad of Vladimir Putin and Alexander Litvinenko" from "Marie In Tomorrowland", written with Maggie-Kate Coleman, performed by Courtney Bassett
Spring 2017:
Maggie-Kate Coleman and Erato A. Kremmyda win the Jonathan Larson Grant
Ars Nova Artist Retreat with Maggie-Kate Coleman
"Riot Antigone" at Ars Nova ANT Fest by Seonjae Kim: original music
Adjunct lecturer at Brooklyn College: Devising Theater with a focus on sound, co-taught with Laura Tesman
Winter 2017:
"Riot Antigone" at La Mama by Seonjae Kim: original music
"Worth of Women" at Carnegie Hall International Festival by Kairos Italy Theater, directed by Jay Stern: original songs with Maggie-Kate Coleman
"Family Mpes-Vges" by Yiannis Xanthoulis at Theater 104 (Athens, Greece) is closing after a 15 month run! Directed by Thanassis Zeritis (4Frontal). Original music and sound design
Fall 2016:
Guest Lecturing at Pace University with Maggie-Kate Coleman (Drama League's Career Development Seminar for the graduating directors)
Catwalk Art Residency with Maggie-Kate Coleman for "Marie In Tomorrowland"
Guest Lecturing at State University of New York/ New Paltz with Maggie-Kate Coleman
"The Tempest" at The Miller Theater, St. Bernard's School, directed by Bradford Cover: original music and sound design
Summer 2016:
"Women of Note" NYMF Concert at The Duke on 42nd street: Presenting "Apocalypse Song" from "Marie In Tomorrowland", written with Maggie-Kate Coleman, performed by Molly Pope
Rhinebeck Writers Retreat for "Marie In Tomorrowland" with Maggie-Kate Coleman
Spring 2016:
"Anarchy", The Civilians' "Let Me Ascertain You" series: new song written with Maggie-Kate Coleman, performed by Cindy Cheung
"Harbor" at the Fort Greene Park, a new short opera written with Maggie-Kate Coleman and developed with Tisch Opera Lab and American Opera Projects
Big Green Theater at the Bushwick Starr with Superhero Clubhouse: orchestrations // band member
Winter 2016:
"Cenzi" by Antonin Artaud at Michael Cacoyanes Foundation, directed by Ioli Andreadi: sound design
"Red Wednesday" at BRIC Arts Center workshop with "Built For Collapse", directed by Sanaz Ghajar: original music and sound design
Fall 2015:
"The Way We Live" by the Civilians at The Metropolitan Museum of Art is selected by New York Theater as one of the Top 10 Shows 2015, and is also honored with placement on similar lists in both Broadway World and The New Yorker.
"Barrier Islands" by Lizzie Vieh at The Wild Project, directed by Zi Alikhan: original music and sound design
"War on Christmas", The Civilians' "Let Me Ascertain You" series: new song written with Maggie-Kate Coleman, performed by April Matthis
"Family Mpes-Vges" by Yiannis Xanthoulis opens at Theater 104 (Athens, Greece), directed by Thanassis Zeritis (4Frontal): original music and sound design
In residency at SPACE on Ryder Farm for "Marie In Tomorrowland", with Maggie Kate Coleman and Sam Pinkleton
Summer 2015:
In residency at the Orchard Project for "Marie In Tomorrowland", with Maggie Kate Coleman and Sam Pinkleton
"World Wide Lab: A Directors' Feast" in Syros' Apollo Theater: resident composer and sound designer
Spring 2015:
"The Way We Live" by the Civilians at The Metropolitan Museum of Art: contributing a new song with lyrics by Maggie Kate Coleman, performed by Cindy Cheung
Winter 2015:
"Artaud/Van Gogh, avec un pistolet" by Ioli Andreadi at Semion Theatre, Athens: original music and sound design
Fall 2014:
The Civilians R and D Lab presentation: "Marie In Tomorrowland" in development with Maggie Kate Coleman and Sam Pinkleton
"Young Lear" at Teatro Duo, Rome - directed by Ioli Andreadi and Annie Levy: original music and sound design
#yesallwomen Raise Your Voice concert at The Tank: original song with EllaRose Charry
Summer 2014:
Recipient of the Anna Sosenko Assist Trust
"Hôtel Méditerrannée" at The Wild Project / Between The Seas Festival, NYC. (Charles Mee's "Matisse's Self Portrait" adaptation by Nadia Foskolou): original music and sound design
Spring 2014:
"WAM Entertainment K-Pop": Ars Nova / Woodshed Collective / Ma-Yi supported workshop (NYC), directed by Teddy Bergman: original songs with lyrics by Maggie-Kate Coleman
"The Salt Makers" by Amina Henry at HERE Arts Center - workshop directed by Benjamin Haber Kamine: original music and sound design
"The Salt Makers" by Amina Henry at Dixon Place - workshop directed by Benjamin Haber Kamine: original music and sound design
"Let Me Ascertain You" series at Joe's Pub by the Civilians: original song with lyrics by Maggie-Kate Coleman, performed by Adam Cochran
"The Dot" at Scrow Theatre (Athens), is closing after a two year run! Directed by Dimitris Bogdanos. Original music and sound design (Theatre for Young Audiences)
Listen
Credits
(* denotes currently in development)
* Marie in Tomorrowland
The Civilians RandD // Rhinebeck Retreat //
Orchard Project // SPACE on Ryder Farm //
Catwalk // Ars Nova Artist Retreat // AMPT
created in collaboration with
Maggie-Kate Coleman & Sam Pinkleton
Red Wednesday
by Sanaz Ghazar
Mabou Mines, PS 122 // 2018
dir. Sanaz Ghazar
* La Folie
by Heloise Wilson
CUNY Brooklyn College // 2018
dir. Laura Tesman
Vinegar Tom
by Caryl Churchill
University of Alabama // 2018
dir. Annie Levy
NYMF "Women of Note" concert
Peter Jay Sharp, NYC // 2017
 
Io
by Laura Tesman
Philippi International Festival, Greece // 2017
dir. Laura Tesman
Riot Antigone
La Mama, NYC //
Ars Nova, NYC // 2017
dir. Seonjae Kim
Worth of Women
Carnegie Hall, Kairos Italy Theater // 2017
dir. Jay Stern
NYMF "Women of Note" concert
The Duke, NYC // 2016
dir. Karen Azenberg
* Red Wednesday
by Sanaz Ghazar
BRIC Arts center, Brooklyn // 2016
dir. Sanaz Ghazar
Big Green Theater
The Bushwick Starr, Brooklyn // 2016
dir. Jeremy Pickard
Family "Mpes-Vges"
Theater 104, Athens // 2016
4Frontal, dir. Thanassis Zeritis
Cenzi
by Antonin Artaud
M.Cacoyanes Theater, Athens // 2016
dir. Ioli Andreadi
The Way They Live
The Metropolitan Museum of Art, NYC // 2015
The Civilians, dir. Mia Rovegno
Artaud/ Van Gogh, avec un pistolet
Semion Theatre, Athens // 2015
dir. Ioli Andreadi
Hotel Mediterrannée
by Charles Mee
("Matisse's Self Portrait": adaptation)
The Wild Project/Between The Seas Festival
NYC // 2014
dir. Nadia Foskolou
*The Salt Makers
by Amina Henry
Here Arts Center, NYC // 2014
The Dixon Place, NYC // 2014
dir. Benjamin Haber Kamine
#yesallwomen Raise Your Voice Concert
The Tank, NYC // 2014
curated by Dane Aber
Young Lear
Teatro Duo, Rome [World Wide Lab] // 2014
dir. Ioli Andreadi & Annie Levy
The Dot
Scrow Theatre, Athens // 2013-14
Bios Theatre, Athens // 2012-13
dir. Dimitris Bogdanos
Story of an Hour
Irondale, Brooklyn [World Wide Lab] // 2013
dir. Laura Tesman, Orly Noa Rabinyan
Wedding
by Bertold Brecht
Irondale, Brooklyn [World Wide Lab] // 2013
dir. Orly Noa Rabinyan & Evan Tsitsias
Agamemnon
Irondale, Brooklyn [World Wide Lab] // 2012-13
dir. Ioli Andreadi & Jay Stern
Let Me Ascertain You
Joe's Pub, NYC [Cabaret Series] // 2013-14
The Civilians, dir. Steve Cosson
Field Trip: A Climate Cabaret
Marfa Dialogues, NYC // 2012-13
Superhero Clubhouse, dir. Jeremy Pickard
Kassia
K.E.T, Athens // 2013
dir. Ioli Andreadi
We Are Theatre
The Cherry Lane Theatre, NYC (concert) // 2012
The Guerilla Girls
A Document in Madness —
A Tale of Hamlet
Theatre Han, NYC // 2012
dir. Mason Beggs
Vanya
Paisley in Blue, 2 Great Jones (site specific)
NYC // 2011
dir. Onur Karaoglu
*Little Boat, a children's opera
Tisch Black Box, NYC // 2011
[Randall Eng's Opera Lab]
Choral Odes
New York Musical Theatre Festival, (workshop)
NYC // 2010
dir. Ioli Andreadi
The Revolution trilogy
Columbia Stages/Shapiro Theatre, NYC // 2009
dir. Onur Karaoglu
Wagon Wheel
book/lyrics : Robin Sandusky
Loewe Foundation "First Look" // 2009
Planet Connections Festivity, NYC // 2009
dir. Rob Heller
Rainsong
book/lyrics: Maggie-Kate Coleman
Tisch School of Arts // 2008
dir. Kara-Lynn Vaenni
From a Childhood
book/lyrics: Maggie-Kate Coleman
Montclair State University // 2009
Tisch School of Arts // 2007
dir. Scott Davenport Richards
dir. Susanna Gellert
Playtime
book/ lyrics: Sean Keogh
The Laurie Beechman Theatre // 2007
dir. Ryan Makenian
Awards / Residencies / Affiliations
| | |
| --- | --- |
| Jonathan Larson Award (with Maggie-Kate Coleman) | 2017 |
| Fulbright Scholarship | 2006 |
| Rhinebeck Writers Retreat | 2016 |
| CATWALK Art Residency | 2016 |
| BASTARD PLAYGROUND at the Drama League: Resident Composer | 2013-2016 |
| The Orchard Project residency | 2015 |
| SPACE on Ryder Farm residency | 2015 |
| Anna Sosenko Assist Trust | 2014 |
| Columbia University: Guest Music Theatre Composer | 2012 |
| Yale School of Drama: Guest Music Theatre Composer | 2009 |
| The Civilians R and D Group | 2013-14 |
| World Wide Lab: Resident Composer and Sound Designer | 2012 to present |
| BASTARD PLAYGROUND at the Drama League: Resident Composer | 2013 to present |
| Composer in Residency: CAP 21 Co-op | 2010-12 |
| ASCAP/Columbia Workshop: Film Scoring Fellow | 2013 |
| Frederick Lowe Foundation Award: FIRST LOOK Reading Series, Tisch | 2009 |
| Dean's Scholarship – Tisch School of the Arts | 2006-8 |
| "Voice Lifting" National Composition Prize – Orchestra of Colors and Athens Cultural Olympiad | 2004 |
| The Dramatists Guild: member | 2008 to present |
| ASCAP: member | 2010 to present |
Film / Documentary
| | | |
| --- | --- | --- |
| Terra Tradita | Italy // 2013 | dir. Gabriella Maria Pezzo |
| 500 kilometers to Summer | China // 2013 | dir. WenWen Ren |
| Three Candles (US, Olympia Dukakis, trailer) | USA // 2011 | dir. Stavroula Toska |
Guest Composer / Lecturer / Teaching
| | |
| --- | --- |
| University of Alabama: Guest Artist | 2018 |
| City University of New York/Brooklyn College: Adjunct Lecturer | 2017 |
| PACE University: Guest Lecturer | 2016 |
| State University of New York, New Paltz: Guest Lecturer | 2016 |
| Columbia University: Guest Music Theatre Composer | 2012 |
| Yale School of Drama: Guest Music Theatre Composer | 2009 |
Education
Master of Fine Arts, Tisch School of Arts at New York University (Music Theatre Writing)
Master of Music, Steinhardt School at New York University (Film Scoring)
Tisch School of Arts : Opera Lab with Randall Eng
Athens University (with Distinction)
Athens Conservatory (with Distinction)
references and PDF available upon request
{current to January 2017}
We Will Not Be Silent
demo recording
Book & Lyrics by Maggie-Kate Coleman
Music by Erato A. Kremmyda
Singing:
Sophie Scholl: Angel Lin
Hans/Hannah: Courtney Bassett
Alex: Azudi Onyejekwe
Chris/Christel: Jesse Carrey-Chan
music production and mix by Ada Westfall
Marie in Tomorrow Land
demo recording
Lyrics: Maggie-Kate Coleman
Music: Erato A. Kremmyda
created by Maggie-Kate Coleman, Erato A. Kremmyda, Sam Pinkleton
Singing:
child Marie and
Cyrilla Baer (Marie), Courtney Bassett (Marie), Amber Renae Gray (Marie), Alyse Alan Louis (Marie), Molly Pope (Marie), Mia Kang (Marie), Angel Lin (Marie), Angela Sclafani (Marie)
Apocalypse song: solo by Molly Pope
The Ballad of Vladimir Putin and Alexander Litvinenko: solo by Amber Renae Gray
sound engineer: Amy Burgess (and Erato A. Kremmyda)
Hotel Méditerranée
Directed by Nadia Foskolou (Between The Seas Festival 2014)
Adaptation of Charles Mee's "Matisse's Self Portrait"
Lyrics: Maggie-Kate Coleman
Singing: Nathan Wright
vanya
Directed by Onur Karaoglu (2 Great Jones, site specific. New York, 2011)
Kassia
Directed by Ioli Andreadi (KET, Athens 2013)
Wagon Wheel
Book and lyrics by Robin Sandusky, music by Erato A. Kremmyda
Directed by Robert Heller
(New York, Planet Connections Festivity, 2008)
Field Trip
demo recording
Music: Erato A. Kremmyda, Lyrics: Maggie Kate Coleman
Directed by: Jeremy Pickard (Theater for Young Audiences)
Irish Rover performed by Chrissy Perotta
rainsong
*mix of three excerpts (rehearsal recording, 2008)
Book and lyrics by Maggie-Kate Coleman, music by Erato A. Kremmyda
From A Childhood
demo recording
"My Room" (Mother, Room), a duet from "From A Childhood"
Book and lyrics by Maggie-Kate Coleman, Music by Erato A. Kremmyda
Directed by Scott Davenport Richards
(Montclair University — 2009)
Flamingos (Fantasia)
Re-score, Live Recording
(2012, for display purposes only)
mix by Alina Freiman
Three Candles (documentary)
Fundraising trailer for Three Candles (working title)
Documentary by Orama Pictures
(2011, for display purposes only)
Kramer vs. Kramer
Re-score, Live Recording
(2012, for display purposes only)
mix by Alina Freiman